So, on we go, checking out the 10 albums (plus five Canadian albums!) that caught my ear, held my attention or generally rocked my socks in 2008.
Mates of State
Re-Arrange Us
Barsuk Records
My "Where Have
You
Been Hiding?" award goes to
Mates of State
, a band I somehow missed getting on the bus with a long time ago. I've got a fair number of musical duos in my collections (such as Soft Cell, Flying Lizards, Kate & Anna McGarrigle and Eno/Fripp, among others) and it appears I'm really drawn to bands where the central idea is "let's see what just two people can come up with." The Mates, who actually are a married couple, have been putting out indie albums for nine years and progressively getting better and better. Their sound is hard to describe, since no similar-sounding stuff comes readily to mind, no touchstones they've obviously drawn from -- unlike so many current bands. There's some Phillip Glass, some They Might Be Giants, maybe a touch of Kirsty MacColl and the Partridge Family as well. Like I said, hard to pin down.
It's basically drum and keyboard, husband (mediocre singer) and wife (good singer) and catchy melodies with personal lyrics (and great titles, such as "Fraud in the 80s" and "Why You Little ..."). Their first album was called "My Solo Project" -- come on, how can you not love that?
This new record has been called "an evolution" by other critics, but to me (after skimming through their back catalogue) it sounds like they're finally firing on all cylinders, no longer trying to compensate for their lack of members or deliberately go for "cute."
Here's the first single, "My Only Offer." Let's hope not.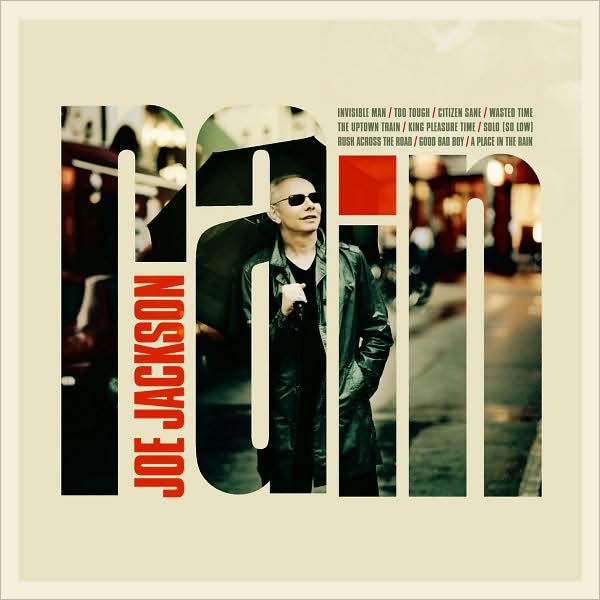 Joe Jackson
Rain
Rykodisc
Oh crap
at last
, somebody we've actually
heard
of, think my readers (and I know who most of you are!). Yes, Joe Jackson, who has somehow managed to avoid the "legend" albatross that hangs around Elvis Costello's neck, the Rodney Dangerfield of New Wave. Joe is still out there, putting out quality pop and tilting pointlessly at the windmill called Success. It must be maddening to have only gotten a Grammy for the single album you've put out in the last 30 years that sounds
nothing
like anything else you've ever done. The man should star in the revival of "I Love You, You're Perfect, Now Change!"
On this 22nd album, Jackson returns to the bass-drums-piano format he obviously favours (bad news for guitarist Gary Sanford) and brings in a hint of jazz, but basically keeps writing cerebral pop songs that are simply too sophisticated, musically intricate and just plain
honest
for the pleebs of this world. This album was recorded in Berlin, his new hometown, but the place doesn't really seem to have affected him much (yet).
Rain
makes the list not just because Jackson is an artist I've followed for 30 years who happens to have put out a record in 2008; he makes the list because this is still
damn good stuff
, and if you're not already a fan of the man this would be a good place to start and work backwards.
Here's a little sample, sadly a live video but Jackson's been touring pretty non-stop over the last few years so I guess they did what they had to do to get a video. Me, I'm just glad he's still out there.
Finally, here's this installment's "Canadian Sidebar": Montreal-based
The Dears
are a "dark pop" combo who regularly release depressing records. Their latest is more of the same, but with each new release they get a little farther away from the Echo & the Bunnymen type sound and closer to Radiohead circa OK Computer -- and that's okay. I like that they alternate vocals between band founder Murray Lightburn and Natalia Yanchak, and oddly enough after they recorded their latest album, the supporting musicians quit, leaving only those two to pick up the pieces and carry on (which they will, most likely). Here's "Money Babies" from
Missles
: