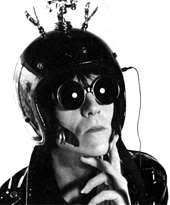 I am stunned to report the death of Erick Purkhiser, better known to the world as
Lux Interior
, creator and leader of the seminal "psychobilly" rock band
The Cramps
at age of 62 of a heart condition. He and his wife Poison Ivy started the band in 1973 (yes, you read that right!) and started recording as a result of joining the New York punk scene of the late 70s.
Lots of rockers talk about/sing about/pose on "the edge," but Lux
lived
there. He synthesized
everything
that was dark, unseemly and cool all together and fused it into his "Elvis-cum-Ghoulardi" persona. You will never again see a performer who more accurately embodies the forbidden appeal of the devil's rock-n-roll.
My most memorable Cramps experience was watching them perform at the Fox Theatre in Atlanta in 1989. Having no opening act, the management required them to go on
promptly
at 8pm -- about three hours shy of their usual time. Lux was not in a good mood. He growled, barked and snarled his way through a not-quite-hour-long set and stomped off.
It was
awesome
!
My thoughts go out to his wife "Poison Ivy," (Kristy Wallace) his partner in everything for the last 37 years. It was our good fortune to have our lives intersect with such an artist as Lux, to have our brains zapped by his influence. He will be missed.
Here's two videos of the many Cramps videos that I particularly like, the earliest one I could find from 1978 (at CBGBs!) and a fan-made fusing of their great cover of "Faster Pussycat" to clips from the film itself.
Next time you're facing the choice of "mild" or "wild," think of Lux and go crazy.